Heavy Truck Castings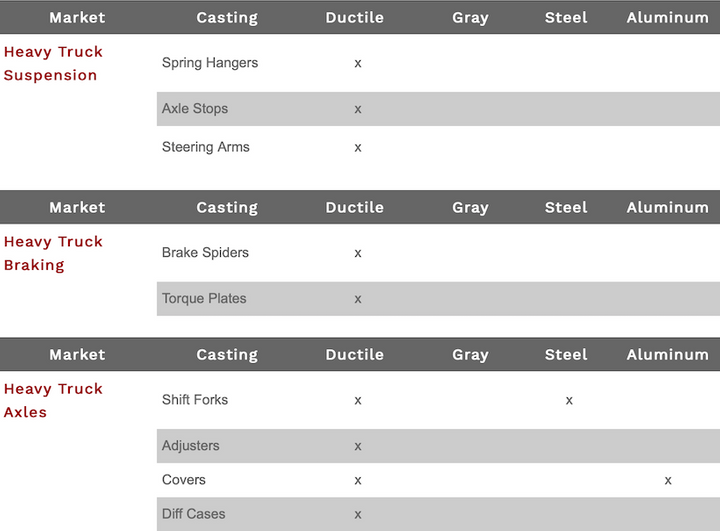 Case Study: Manufacturer of Truck Components In Need of ADI Castings
Problem: A manufacturer of truck components presented Carson Castings with a troublesome package of existing castings. Their existing supplier, while price competitive, was experiencing double digit internal and external scrap return rates.
The ancillary costs of the scrap castings were adding up in lost machine time and increased personal costs. The customer was looking to resource the work at a comparably priced ductile foundry, but with the expectation of a much lower scrap return rate.
Solution: Carson Castings travelled to the existing foundry source to view the pattern equipment used by the customer. During discussions it was determined that the castings were dimensionally too big to run on the existing equipment they were tooled for. Using the existing equipment was not an option - the castings needed to be tooled on new equipment.
After replacing the tooling, Carson Castings was able to place the work at a ductile foundry with a comparable piece price to the old source and significantly reduce the scrap rate.
Case Study: Manufacturer In Need of Ductile Iron Components
Problem: A manufacturer of industrial motion control components approached Carson Castings in need of an existing ductile iron component. The reason for this was to try to find a more cost-effective raw casting supplier of the component.
Solution: Carson Castings participates in the quoting of many "cost savings" initiatives each year. Instead of only finding the lowest cost raw casting source available, Carson Castings also looked at the overall design of the ductilecasting.
Discussing the end use of the component with the customer's engineering staff, it was discovered that key features could be produced "as-cast" instead of being machined.
The partner foundry not only said it could be done, but produced a small pilot run in-house to prove capability as well. The resulting component with less machining yielded the customer a 23% savings.