Grey Iron Castings
We represent the best ductile iron foundries in the USA and back it up with professional and ongoing service.
Supplier Of The Following Gray / Grey Iron Grades: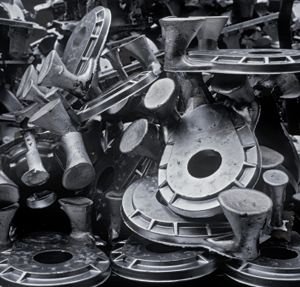 Raw ductile iron castings after shake out from mold & before risers & gates are removed in a casting company







Water Jacketed Exhaust Manifold 34 lbs


Compressor Cylinder 3 lbs
Grey iron – Flake graphite provides gray iron with unique properties (such as excellent machinability) at hardness levels that produce superior wear-resistant characteristics, the ability to resist galling and excellent vibration damping. Grey iron is sometimes spelled gray iron.
Strength and hardness are sensitive to section thickness in gray iron castings. In thin sections, the material can be hard and difficult to machine. In heavy sections, its strength is reduced significantly. Because the modulus of elasticity for gray iron is higher in compression than it is in tension, the use of standard structural formulas results in a conservative design.
Gray iron has been produced in various forms for thousands of years, making it the most recognized type of cast iron. Gray irons can be alloyed to increase strength and hardness while cast, or to increase their response to heat treatment.
Gray iron castings can be machined easily and are used for damping or controlling vibration in a variety of applications. The mechanical properties of gray iron are determined by the combined effect of its chemical composition, processing technique in the foundry, and the solidification and cooling rates.
Properties of gray iron castings are affected by its shape, size and wall thickness as well.