Grey Iron Castings
We represent the best gray iron foundries in the USA and back it up with professional and ongoing service.

Range of Volume
We offer gray iron castings in a range of volumes. From prototype castings using 3D printed sand molds, up to production casting running in the hundreds of thousands. We likely work with a gray iron foundry that can meet your exact needs.

Range of Sizes
We work with a wide range of foundries to insure we can provide you the exact size casting your project needs. Our gray iron castings weight range stretches from a few ounces up to 10,000 pounds, and our max envelope size is approximately 70" x 70".

Material Grades
Our gray iron castings are available in several material grades. Including ASTM A48, ASTM A159 and SAE J431. We also supply other specialty grades including ASTM A436 (ni-resist) and customer specific chemistries.
Grey Iron Castings Gallery








Water Jacketed Exhaust Manifold 34 lbs


Compressor Cylinder 3 lbs

Why Call Carson Castings For A Quote?
1. What Grades of gray iron do you source?
ASTM A48, ASTM A159 and SAE J431. We also supply special grades including ASTM A436 (ni-resist) and customer specific chemistries.
2. What range of sizes are available?
Weight ranges from a few ounces up to 11,000 lbs. Dimensions up to 70" x 70".
3. What EAU can you provide?
This is weight dependent, but as a general rule we can supply up to 100,000 pieces a year in weights up to 150 pounds. From 150 pounds to 500 pounds we can service EAUs up to 2,500 pieces. 500 pounds and up 1,000 EAU.
4. What type of molding processes do you have available?
Both greensand and no-bake. Greensand includes both semi-automatic and automatic molding lines (including Sinto, Hunter, B&P and Disa molding)
5. What type of quality control procedures do you have in place?
The majority of our partner foundries are ISO Certified. We also offer x-ray, mag particle and other NDT services for projects requiring enhanced QC checks.
6. States We Serve
Illinois
Indiana
Iowa
Kansas
Kentucky
Michigan
Minnesota
Missouri
Nebraska
North Carolina
Ohio
Oklahoma
Pennsylvania
Virginia
West Virginia
Wisconsin
Grey Iron Specifications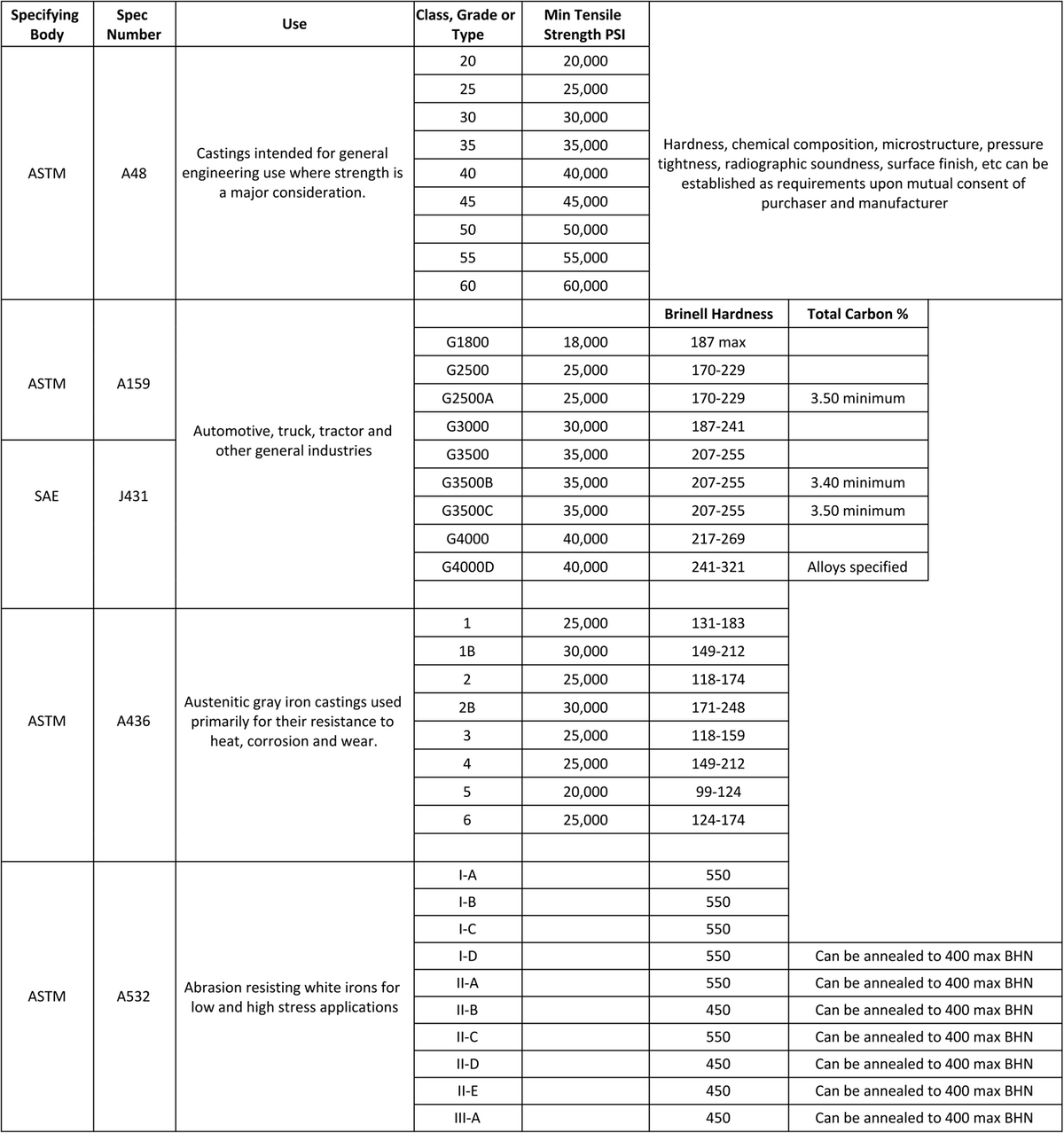 Grey iron – Flake graphite provides gray iron with unique properties (such as excellent machinability) at hardness levels that produce superior wear-resistant characteristics, the ability to resist galling and excellent vibration damping. Grey iron is sometimes spelled gray iron.
Strength and hardness are sensitive to section thickness in gray iron castings. In thin sections, the material can be hard and difficult to machine. In heavy sections, its strength is reduced significantly. Because the modulus of elasticity for gray iron is higher in compression than it is in tension, the use of standard structural formulas results in a conservative design.
Gray iron has been produced in various forms for thousands of years, making it the most recognized type of cast iron. Gray irons can be alloyed to increase strength and hardness while cast, or to increase their response to heat treatment.
Gray iron castings can be machined easily and are used for damping or controlling vibration in a variety of applications. The mechanical properties of gray iron are determined by the combined effect of its chemical composition, processing technique in the foundry, and the solidification and cooling rates.
Properties of gray iron castings are affected by its shape, size and wall thickness as well.