Casting Material Characteristics & Applications: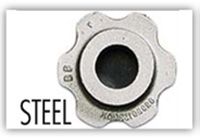 Characteristic
Steel is a versatile material with wide ranging mechanical and chemical properties. We offer steel castings in low to medium volumes in weights up to 4000#. Many Carbon, Alloy and Stainless grades are available.
Application
Steel castings are used in many different applications and industries including: gears, railroad components, valve bodies, pump casings, mining machinery, marine equipment and smelting applications.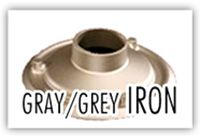 Characteristic
Grey iron is a cost effective option and a readily available material. Our grey iron foundry sources can provide components in weights from a few ounces up to 10,000#. Order quantities from a few up to several hundred thousand can be accommodated.
Application
Grey iron castings are used in many diverse applications including: internal combustion engines, pump housings, valve bodies, electrical boxes, decorative castings and hydraulics. Grey cast iron's high thermal conductivity and specific heat capacity make it an often used material in cast iron cookware and disc brake rotors.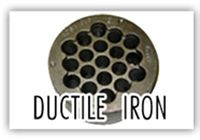 Characteristic
Ductile iron offers a unique mix of strength and affordability, making it a go-to material for many applications. We are experts in ductile iron castings and can source quantities in almost any quantity desired. A range of weights, from a few ounces to 8000#, is available.
Application
Ductile iron is useful in many applications: off-highway equipment, Class 8 trucks, agricultural tractors, oil well pumps, hydraulics and infrastructure components.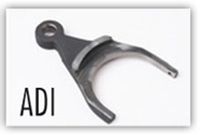 Characteristic
Austempered Ductile Iron (ADI) builds upon the strength and affordability of base ductile irons. Mechanical strengths that rival steel are achievable at a much lower cost. Weight ranges of mere ounces to 8000# are offered by our partner foundries in quantities of a few to several hundred thousand per year.
Application
Austempered Ductile Iron is used in many similar applications to base ductile iron, including agricultural equipment, heavy trucks, railroad components and pumps. Gears, ground engagement tools and suspension components are also commonly poured using ADI.