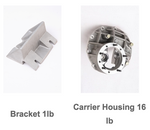 We represent the best aluminum foundries in the USA and back it up with professional and ongoing service. Carson Castings (Foundry-Source.com) specializes in aluminum castings weighing 1# to 2000# and up to 120"x120"
Expertise in our Field - We deal strictly in the sourcing of castings and machined castings.
Added Value - We can provide raw castings or complete assemblies and everything in between (painting, heat treat and machining).
Tooling Options – No-bake and green sand molding. Floor, manual, squeezer, cope and drag, Hunter, Sinto and B&P molding processes.
Industry Knowledge - Our years of experience in the casting field ensure we place your work at a facility suited to your project's unique needs
Light-weight and easy to machine, aluminum is the material of choice for many automotive and aircraft applications.
Aluminum weighs about one-third of most common metals, an attractive feature when lighter parts translate into less power usage and less vibration. Aluminum parts ensure that equipment runs more smoothly, has lower stresses, and results in a longer life with reduced maintenance. Even when sections are enhanced for strength, aluminum can usually show a weight savings of up to 60 percent.
Aluminum castings provide good conductivity, making them ideal in applications where heat must be dissipated or transferred rapidly. Many manufacturers are turning to aluminum castings to replace more expensive fabricated assemblies, because the material is so workable. It can be cast into thin sections without having to rely upon thicker sections like other metals, resulting in a cost savings. Rustproof aluminum eliminates the need for painting or other expensive processing to protect the metal.